How many of us have seen a horse with white spots on their back? Ever had someone tell you the horse is a Paint, Appaloosa or part of either breed because they have spots? Many people do not know the spots are a result of poor saddle fit at some time in the horses life.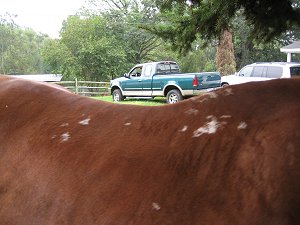 This photo is of a horse named Jack from the website
Horses With Amie
, that I found online by looking for "Saddle Sores". None of our horses have these type of spots, so I had to go in search of a photo showing them.
This picture is a great example of the resulting 'white spots' where the saddle has pinched the horses back and reduced the circulation in that area. Over time and with continued use of an ill fitting saddle, these white spots will appear.
If you wish to go all out and check your saddle fit with an image like the one above, by all means go ahead and do so. This one is from
Infrared Survey.Com
and available for those of you in the Charlotte, NC area for $100 per horse.
However, there really isn't the need to spend any extra money to check saddle fit. Just tack the horse up and lunge them as usual, long enough to build up a sweat under the saddle. Pull the saddle off and check for dry spots. If there are any, you have a few issues to resolve before things get worse. Run your fingers down their back, along the spine from the withers on back to their hips. Press down gently as you do so. If there are any sore spots the horse will give you a noticeable reaction.
If the dry spots are left as is and the same saddle is continued to be used, over time those white spots will develop. They usually start as a few white hairs, before they end up as a definite 'spot'. The nerves are being pinched and causing soreness. There is also a decreased amount of circulation in that area. The size of the spot will be in relation to the size of the area being effected.
I had a gelding ages ago, who started to develop these spots. The saddle was pinching him near his withers but the dry spots were not so noticeable. What was noticeable was his behavior changes when wearing that saddle. He would occasionally buck, dive on the bit and a few other not so wonderful things. I began noticing white hairs appearing near his withers... They began to multiply and the white haired area was growing. Saddle fit was the direct cause.
I sold the saddle causing my horses spots and bought another that fit him. I also started to focus on currying that area a bit more to regenerate the circulation and restore feeling. What happened? The grey hairs went away and the normal dark ones came back. When riding him, he no longer bucked or dove on the bit. His resulting bad behavior was gone too. Hooray!
Now to some degree, these spots *can* be reduced in size or disappear altogether. This of course depends on how long the spots have been there and if the same saddle is still being used. It also depends on how much extra currying you are willing to do to help bring back the circulation in the area. By checking their back before and after each ride for soreness, this will help you catch things, long before they have gone that far.